Need help assembling your brand new product?
Let Taskrabbit help you with that.
What is Taskrabbit?
Taskrabbit is a same-day service platform of people in your community doing tasks that make your everyday life easier. Skilled Taskers can help with your odd-jobs and errands so you can be more productive every day.
Book Now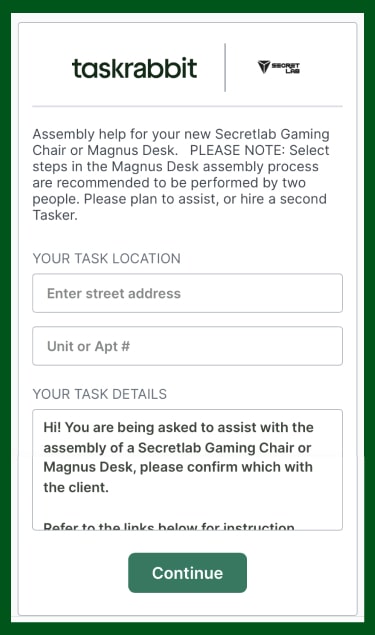 1
Simply head over to Taskrabbit and specify your details.
2
Your Tasker will arrive at your home and help with the assembly!
How It Works
1
Specify Your Address
Tell us your address so we may list suitable tasker in your location.
2
Choose Your Tasker
Browse trusted Taskers by skills, reviews, and price. Select the right person for the job and chat to confirm details.
3
Get It Done
Your Tasker arrives and gets the job done. Pay securely and leave a review, all through Taskrabbit.
Taskrabbit offers assembly services for people who may require assistance with assembling their chair. They utilize a task management network to connect you with their own Taskers from local communities who can help assist you with your assembly.
Booking a task is simple!
Simply head over to Taskrabbit and specify your details.
Payment will be collected directly through the Taskrabbit platform only after your task is complete. For first time users, don't forget to input your discount code (if applicable)
Your selected Tasker arrives at your selected time and date and gets your product assembled.
Is self-assembly difficult? / Should I self assemble or book a task?
Detailed instructions on the assembly process is readily available for all customers. Upon purchase and fulfilment, a confirmation email containing an Assembly Video as well as an Assembly Guide will be sent to your inbox. You can also find the Assembly Video and Assembly Guide in our Resources page.
The Assembly Video and Guide will give you a step-by-step visual walkthrough, as well as some important safety information to keep in mind. So, watch it through at least once before you start. Most users take about 20 minutes to assemble their chair or 25 minutes to assembly their desk.
If you run into any issues during the assembly, please feel free to contact us through our Contact Form and our support team will do their best to help you.
Alternatively, if you require further assistance you can also opt for Taskrabbit's assembly service.
Is Taskrabbit available where I am located?
When is the best time to begin arranging for a task?
The average time range to receive an order after it is dispatched is between 1 - 2 working days. However, deliveries may encounter slight delays due to distance and unforeseen circumstances like inclement weather and as such, we highly recommend for customers to arrange for a task only after the order is received.
What should I prepare before booking a task?
We recommend that you do a check on the product parts before arranging for a task. If you notice any issues with the product components, please reach out to our support team via the support form so they can assist you with it.
Can I schedule assembly service for more than 1 product?
Yes you can. Simply amend the task description and list down how many products you require the assembly service for and the number of hours required for this task when putting in a request. The charges incurred will be according to the number of hours used when performing the assembly. Hence, if extra hours were inputted when requesting for a tasker, the amount will be adjusted accordingly depending on the actual number of hours spent.
How much will a typical assembly cost me?
Assembly prices differ based on your location. When booking a task, you can choose which Tasker you would like to hire according to their skills, reviews and hourly rates and the prices differ accordingly.
How long will the assembly take?
The assembly of our products typically takes no more than 1 hour. However, it is important to note that Taskrabbit requires a minimum of an hour to be booked for each task.
How do I reschedule or cancel? Will I be charged?
If you no longer need a task completed, you can cancel or reschedule your task before it is completed. You can head over to the this Taskrabbit article to find out more.
What can I do if I encounter an issue with my booking?
If you encounter an issue with your booking we recommend to reach out directly to Taskrabbit. You can also check out their comprehensive list of FAQs on their website for more information.
What happens if the product gets damaged during the assembly?